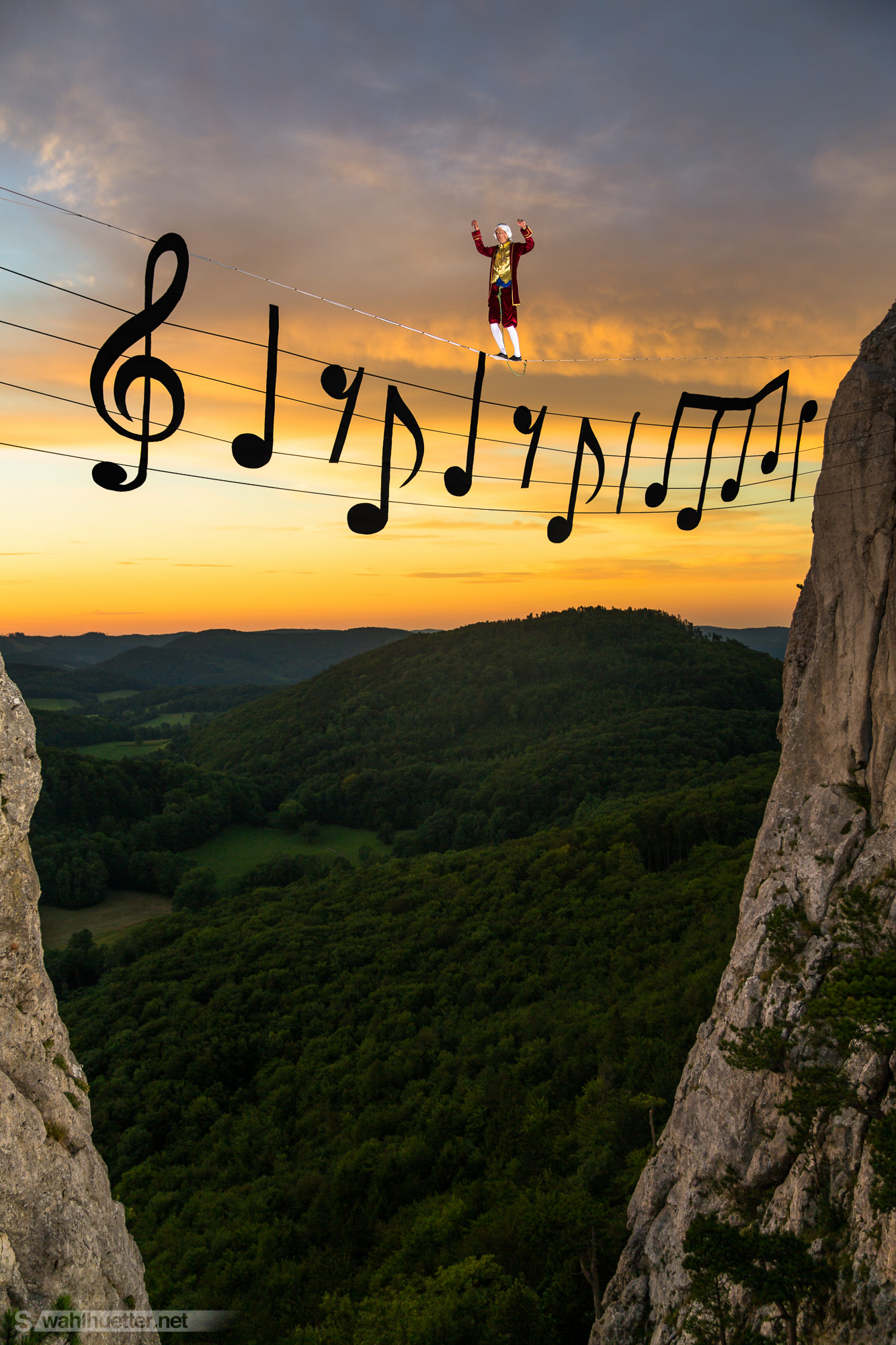 Think big they said! I took it literally this time. Project "Amadé" is the latest in a series of photographic installations and probably the most elaborated one. This is a single image exposure project. It was literally a big piece of work including countless hours of organization, planing, crafting, building test Riggs and of course finally realizing the actual installation of this beast. A big thanks straight away to my team of rigging experts, athletes and helping hands who made this possible with their skill set – namely: Harald Höglinger, Thomas Spöttl, Tom Buckingham, Angelika Wild and Nora Salomon.
Wolfgang Amadé Mozart as he called himself allegedly said once that his work is already composed just not written down yet. Something similar can be said about such photographic projects. In the beginning there is an idea and over the period of months everything is getting planed in details – yet the final output is still missing leaving always an uncertainty of the outcome or even possible failure. The idea for this project opened up while still editing one of my former projects (99 red balloons) stumbling over an other song from that era. Falco's "Rock me Amadeus". The idea of an Falco tribute was soon ditched due to copyright and legal questions. Yes dear fellow photographers, intellectual property demands that you can't just depicted some notes of your favorite song in your photo without paying a decent amount of money for licensing – fair enough. So the spotlight fell on Mozart himself. In fact the obvious choice anyway to deal with what maybe can be called the first king of pop.
No additional bolts were used and no traces left behind to realize this project. #responsibelphotography
(Fun)fact 1: The tune depicted in this image (and I admit it has some minor flaws) is from the Serenade No. 13 (for practical reasons we choose the Piano version) better known as "A little serenade" or "A little night music" finished 1787 and allegedly never played in Mozart's lifetime – yet its one of the most famous pieces of work ever written.
(Fun)fact 2: Even though Mozart died lonely and as a poor man the brand "Mozart" has an estimated net worth beyond 5 billion Euro.
Other projects from this series:
Image ©: Sebastian Wahlhuetter Photography | @Swahlhuetter | www.wahlhuetter.net